Effective Process

Cooling

and

Heating

by Design
Process Cooling
The manufacturing business requires large amounts of process cooling for various products. As an Expert in the industrial refrigeration market, HECO provides the solutions to your application.
Ice Machines
A great many manufacturing processes rely on either heating or cooling to run at their optimal capacity, involving a wide variety of industries that rely on one or the other, or oftentimes on both.  Temperature can be a critical component of operating smoothly and efficiently, and having to deal with downtime and interrupted production.  If you're a business owner your priority is seeing that your product or service is offered to customers with consistency.  We can take care of the rest.
Industries
Manufacturing
Chemical
Printing
Pharmaceutical
Pulp and Paper
Food and Beverage

Wineries
Breweries
Food Processing

Wineries
Ice Rinks
Applications
Brine Chilling
Ice Baths
Glycol Chillers
Manufacturing process cooling
Equipment
Applications
Cogen
Heat Recovery
Refrigerant Reheat

Dehumidification purposes

Boilers
Underfloor Heating
Steam Production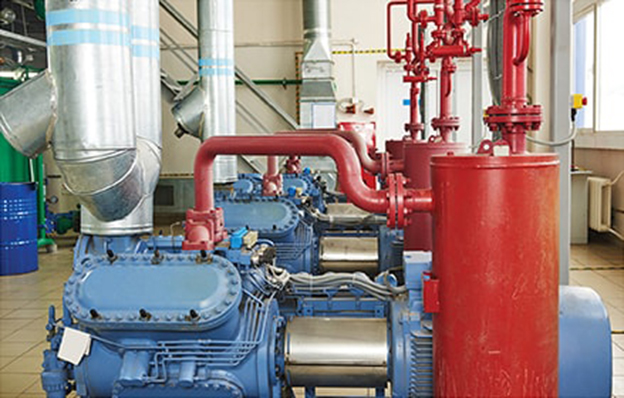 The waste heat of refrigeration is an abundant source of energy, able to be utilized to conserve energy on a holistic scale.
In floor heating, boiler operation, and steam production all rely on the heating process. For example, a boiler can be used to create heat for either spacing heat in a building or to heat service water for a residence or business.
The cooling process is no less important, and it is used in a variety of industries such as the manufacturing of pharmaceuticals, the pulp and paper industry, and, probably most obviously, the food and beverage industries and in making and sustaining ice rinks. Ice machines, glycol chillers and brine chilling are all great examples of applications for this process.